The Research Group of European Planning Cultures is dedicated to researching and teaching the diverse processes and mechanisms of Europeanization in spatial planning and spatial development policy. Through Europeanization of spatial development policy, we understand the multifaceted process of adaptation and change in content, tools and discourses of the spatial development policy at various levels in the European region (EU, national state, region, municipality). An understanding of the European institutions and policy processes is essential for analysing industrial change and therefore an integral part of the courses. Initial traces of Europeanization are visible through funding programs supporting cross-border cooperation (INTERREG and now European Territorial Cooperation) and embodied in official policies and documents – such as the European Spatial Development Perspective (ESDP) or the latest Territorial Agenda of the European Union as well as projects of European transport and structural policy. However, a substantial part of Europeanization concerns specialized discourses, concepts of spatial development or a changing self-understanding and morever, takes place outside the formal European institutions and instruments.
On the growing importance of the European Union for the spatial development policy, states, regions and municipalities have set each in their own way. Examples are the European concept of the City of Frankfurt, the EU regular meeting of the Hamburg Metropolitan Region and the European Office of the Stuttgart Region in Brussels. Also worth mentioning is the Network of European Metropolitan Regions METREX or the concept of "European metropolitan regions in Germany" in the German planning.

Location & approach
The facilities of TU Dortmund University are spread over two campuses, the larger Campus North and the smaller Campus South. Additionally, some areas of the university are located in the adjacent "Technologiepark".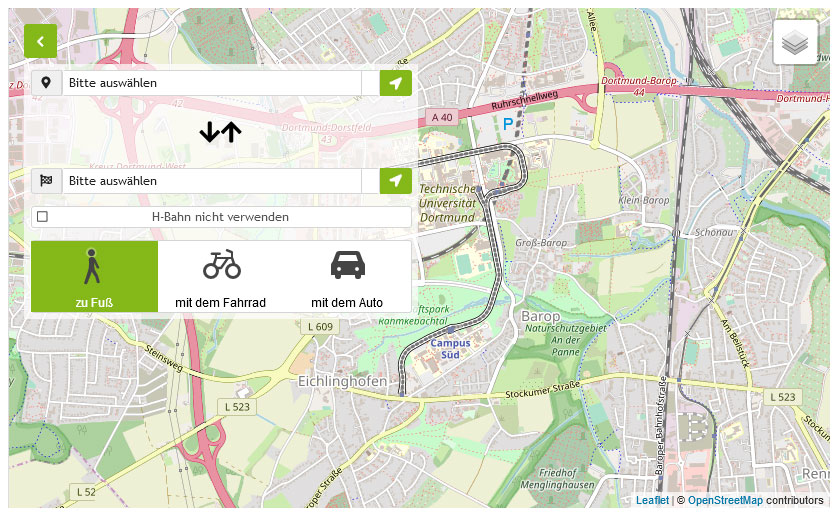 Zum Lageplan
Campus Weather

Open weather forecast