Imprint according to section 5 (1) of the German Telemedia Act (TMG)
TU Dortmund University, in accordance with section 2 (1) sentence 1 in conjunction with section 1 (2) sentence 1 no. 5 of the Higher Education Act of the State of North Rhine-Westphalia (HG NRW), is a corporation under public law with legal capacity. It is supported by the State of North Rhine-Westphalia and represented by the President, Prof. Dr. Manfred Bayer.
TU Dort­mund University carries out its tasks pursuant to section 76 (1) sentence 1 HG NRW under the legal supervision of the Ministry of Culture and Science of North Rhine-Westphalia, Völklinger Straße 49, 40221 Düsseldorf, Germany.
Value Added Tax Identification Number (VAT ID)
Value Added Tax Identification Number pursuant to section 27a of the German Value Added Tax Act (UStG): DE 811 258 273
Responsibility for content pursuant to section 18 (2) State Media Treaty (Medienstaatsvertrag, MStV):

Fachgebiet Europäische Planungskulturen
Fakultät Raumplanung
Technische Universität Dortmund
August-Schmidt-Straße 6
44227 Dortmund


Konzeption, Gestaltung, Umsetzung und Support:
mehrwert intermediale kommunikation GmbH
Steinfelder Gasse 11
50670 Köln
Location & approach
The facilities of TU Dortmund University are spread over two campuses, the larger Campus North and the smaller Campus South. Additionally, some areas of the university are located in the adjacent "Technologiepark".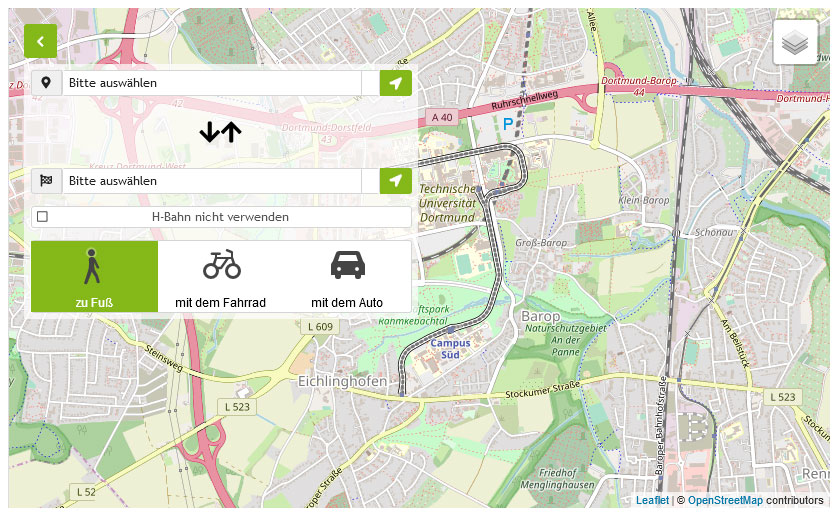 Zum Lageplan
Campus Weather

Open weather forecast